Sacraments
BAPTISM AND WEDDING GUIDELINES and CHECKLIST
BAPTISM GUIDELINES AND CHECKLIST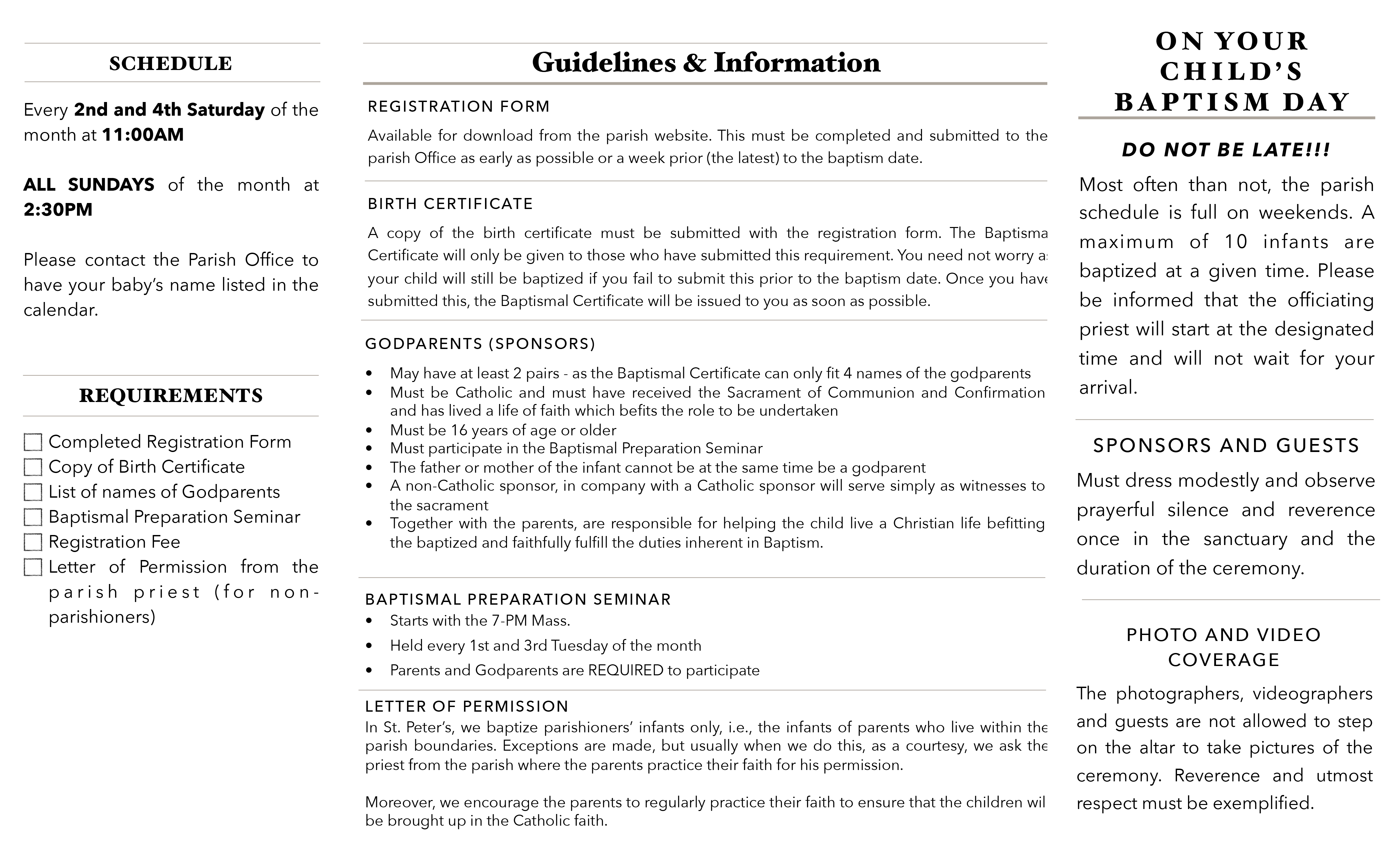 WEDDING GUIDELINES AND CHECKLIST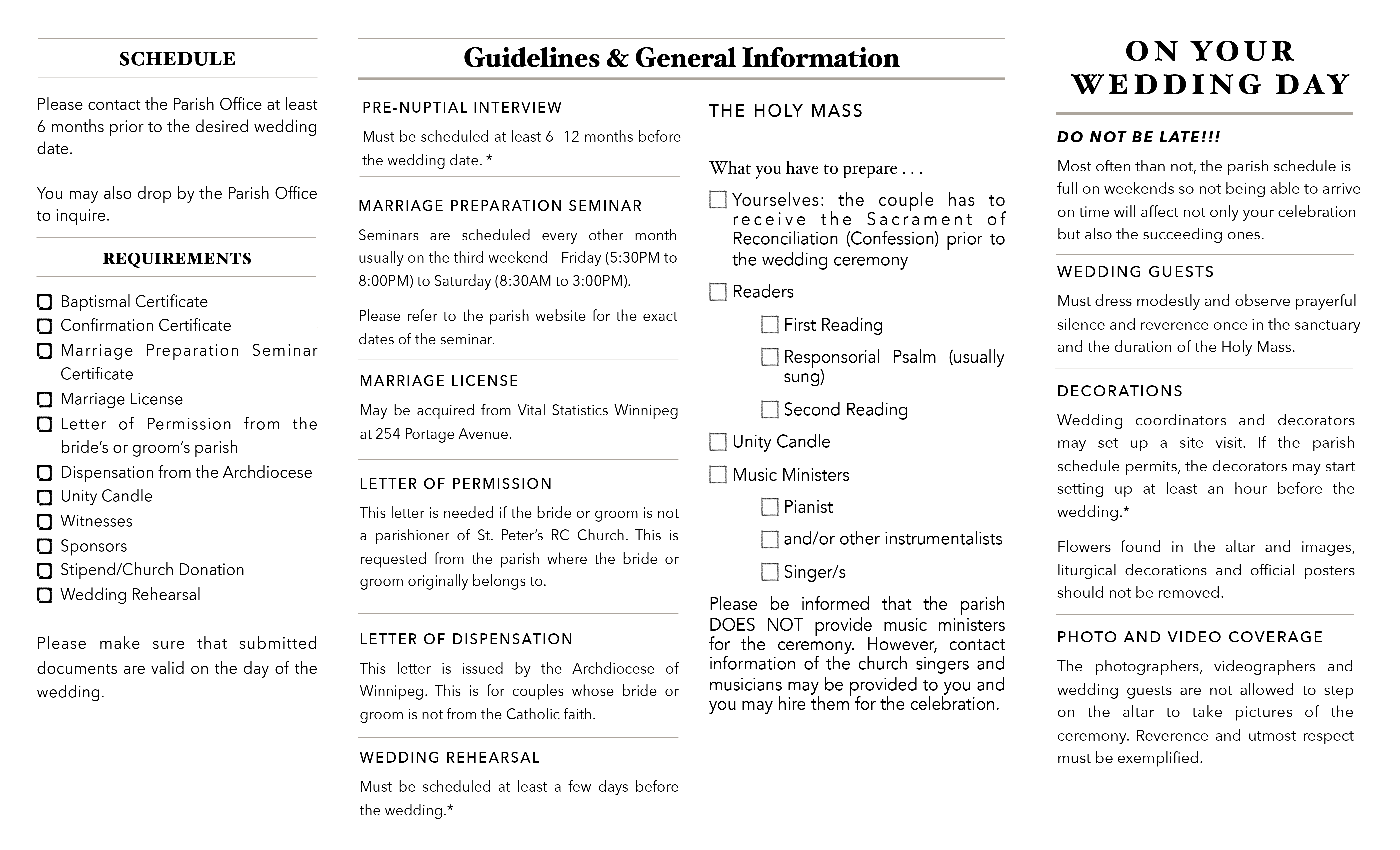 Baptism
For Catholics, the Sacrament of Baptism is the first step in a lifelong journey of commitment and discipleship. Whether we are baptized as infants or adults, Baptism is the Church's way of celebrating and enacting the embrace of God. It is the Sacrament of initiation.
The Holy Eucharist
Catholics believe the Holy Eucharist, or Holy Mass, is both a sacrifice and a meal. We believe in the real presence of Jesus, who died for our sins. As we receive Christ's Body and Blood, we also are nourished spiritually and brought closer to God.
SCHEDULE
Tuesday to Friday - 7:00PM
Saturday - 5:00PM (Anticipated) *Healing Mass is celebrated every FIRST SATURDAY of the month at 6:30PM
Sunday - 8:30AM, 10:30AM, 12:30PM, 4:30PM (Tagalog) & 7:00PM
CHILDREN'S MASS
September to March Catechism Months
Celebrated every 3rd Monday (7PM), 3rd Wednesday (7PM) and 3rd Saturday (9:30AM)
Reconciliation (Confession)
The Catholic Sacrament of Reconciliation (also known as Penance, or Penance and Reconciliation) has three elements: conversion, confession and celebration. In it we find God's unconditional forgiveness; as a result we are called to forgive others.
Schedule: 30 Minutes before Masses, the priests are available for confession. Just approach them or you may call the parish office for appointment.
Confirmation
Confirmation is a Catholic Sacrament of mature Christian commitment and a deepening of baptismal gifts. It is one of the three Sacraments of Initiation for Catholics. It is most often associated with the gifts of the Holy Spirit.

Schedule: Normally our Confirmation is integral part of our catechism classes. However, as part of our fiesta celebration in June, we have Adult Confirmation (18 years old and above).
Please click on the link below to download the form for ADULT CONFIRMATION
Download Registration Form
Matrimony
For Catholics, the Sacrament of Marriage, or Holy Matrimony, is a public sign that one gives oneself totally to this other person. It is also a public statement about God: the loving union of husband and wife speaks of family values and also God's values.
Download Marriage Requirements
Schedule of Pre-Cana Seminar (Marriage Preparation Course) 2016
Friday 5:30PM to 9:00PM & Saturday 8:30AM to 3:30PM
2018 SCHEDULE
May 18 - 19
July 20 - 21
September 21 - 22
November 16 - 17
Download Form for Marriage Preparation Course
Holy Orders
In the Sacrament of Holy Orders, or Ordination, the priest being ordained vows to lead other Catholics by bringing them the sacraments (especially the Eucharist), by proclaiming the Gospel, and by providing other means to holiness.
Anointing of the Sick
The Catholic Sacrament of Anointing of the Sick, formerly known as Last Rites or Extreme Unction, is a ritual of healing appropriate not only for physical but also for mental and spiritual sickness.
Schedule: Anointing & Funeral is by request
Vision/Mission Statement and Objectives
a. Vision Mission
This vision mission statement has been formulated as a result of the survey questionnaire we did sometime in October 2006. This includes objectives and the plans of action based on five (6) areas of concern; Worship, Education, Service, Temporalities, Organizing and Youth (WESTOY) Apostolates. Part of the plan of action is the building of a new Church for God in the service of the Christian community of St. Peter. The plan to build a new Church or at least enlarging it was initiated by Rev. Fr. Jery Ward sometime in 1996 and was continued by Rev. Fr. Wayne Morrisey. We thank God for the gift of their foresight for this need of the parish.
St. Peter's Parish Vision/Mission Statement
We, the Parishioners of St. Peter's Church, created according to God's image and likeness (Genesis 1: 27); uniquely gifted with Time, Talents and Treasures; inspired and strengthened by the gift of the Holy Spirit; are committed to build a vibrant family-oriented Christian Community, that is united in Love and in Service. (John 17: 21)
b. Objectives
To develop a sense of belonging through the sharing of Time, Talents and Treasures (the 3 T's).
To empower the faithful to a more active, conscious and full participation in the Parish Ministries.
To provide opportunities for Spiritual growth – maturity of faith.
To be consciously and charitably generous to less blessed people, individuals and the Christian Community.
To cooperate and coordinate actively in the implementation of the Archdiocesan pastoral concerns of: